A Shot of Wildlife video tour – The Hidden Life of Marsh and Mill
Event date: 31st October, 2021 - 5th December, 2021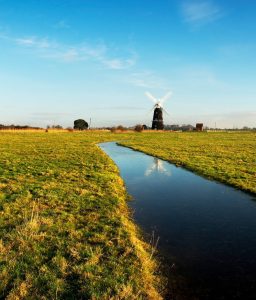 Heritage Open Days (HODs) 2020 may have come to an end but there is still time to catch this exclusive HODs virtual video tour of the Halvergate Mills Trail.
We have teamed up with Liam Smith from 'A Shot of Wildlife' to take you on this video tour, exploring the hidden nature and heritage in the surrounding marshlands.
Discover the importance of this uniquely shaped habitat to the marshland inhabitants found hidden in the myriad of dykes, grazing marshes and in the mills themselves. These distinctive features of the Halvergate marshlands are an unsung testament to the centuries of human effort to drain the marshes over the last 400 years and to use this Great Estuary landscape for industry, commerce, agriculture and more recently for nature conservation.
Liam will virtually guide you around this 7.5 mile tour through the heart of Halvergate marshes, exploring what is found in and around the floodbanks, dykes and marshes along the way. He will then reach the great estuarine habitat of Breydon Water and take in the rich variety of life here before returning back along the Weaver's Way and across Britain's most remote train station at Berney arms, before coming full circle.
Directions
Inspired by the virtual tour and want complete the walk yourself? Visitors should park at the roadside parking area on Stone Road where the route starts. The beginning of the walk is marked by a wooden fingerpost. This walk is not yet fully waymarked, so it is strongly advised to take a route map with you. A more sustainable transport alternative to access the walk would be to catch the train from Norwich or Great Yarmouth and get off at Berney Arms Station (upon request only) and embark on the walk from here. Further details of this walk can be found here so that you can take the chance to discover the hidden life of Halvergate Marshes and Mills for yourself.
Access
On this walk there is a stile, field gates, kissing gates and areas of uneven ground but the majority of the walk is flat. Sections of the walk will pass through fields where cattle may be grazing so take care and follow the countryside code. Dependent on seasonal conditions, parts of this walk may cross muddy fields so always wear appropriate footwear and clothing. The walk also passes two train crossings so take extra care and always follow crossing instructions.
Watch the full trail tour on the A Shot of Wildlife Youtube channel below
Event details
Map of event location
Event date: 31st October, 2021 - 5th December, 2021
Price: Free
Event location: The route starting point is at a small parking area on:
Stones Road,
Halvergate,
NR13 3GX
Grid Ref: TG 4335 0660.