Projects Postponed by Pandemic
Published: 23rd March, 2020
The Coronavirus effectively stopped our summer engagement program and paused the following three projects mid flow.
Broads Ballads by Somerleyton Primary School.
In January, a group of Year 3 and 4 students from Somerleyton Primary School exercised their song writing skills. Their aim, to produce our first Primary School contribution to the annual Broads Album. They spent a beautiful, if chilly, morning visiting Burgh Castle and Hardley Mill, absorbing the atmosphere while listening to the history and stories of each place. Back in school they brainstormed everything they'd heard, felt, seen and smelt on the excursion. Their mind maps were divided into themes and they were split into groups to write a song based on each theme. They then explained how they expected the music to sound and away went their teacher to compose it. A couple of times she was sent back to the drawing board having not quite captured what was being asked for! The four songs are fabulous and hopefully, can soon be performed for all to hear.
Northfield St Nicholas Whole School "Good Deed" Litter Pick
As part of Northfield St Nicholas Primary School's "11 Before 11" targets we facilitated what would have been an entire school litter pick, in partnership with Lowestoft Town Council and Ormiston Denes Academy, to clean up and restore the Nature Walk that runs alongside Lowestoft's Great Linear Park.
The plan was to survey the site, conduct a full school litter pick with the support of Love East Suffolk, mend the rotting board walk, create posters to go up in the area and then re-survey the site. We managed, prior to Lock Down, to have the two Year 4 classes conduct an ecological survey of the site. This included counting birds, the aquatic invertebrates living in the stream and the plants and trees growing along the board walk for which they also produced a map. Certainly looking forward to getting this up and running again as soon as conditions allow.
Sir John Leman Year 7 Inspiration Days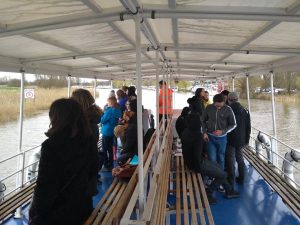 Every year, Year 7 at Sir John Leman High School, Beccles, are given a theme or topic around which they put together, during the summer term, various bodies of work including art, music and drama. This year the Broads National Park was their theme. To prepare them we delivered an introductory assembly before taking, in batches of 50, the entire Year 7 cohort (250 students) out on Inspiration Days into the Park. They sailed on the Waveney Princess from Oulton Broad, visited Hardley or Herringfleet Mill and had a tour round Lowestoft Boat Building College. During these trips they recorded in their workbooks their responses to the landscape, what they'd seen and information about the places they visited. Sadly, it looks like we'll have to wait until next year to conclude this project.