Greater Water Parsnip Project
Published: 1st April, 2020
In 2018, Water, Mills and Marshes Education Team decided to run a "Conservation in Action" project with local schools. In the last few years public awareness of 'Rewilding' and the introduction of species back into areas where they once occurred has gained momentum. Indeed, Norfolk's first beavers, since the 16th century, were introduced only last week. What better way to engage students with this topic than by enabling them to introduce a species to an area? As exciting as it would have been raising young beavers, wild boar or lynx in schools no one would have given us permission so instead, we settled on the next best thing – The Greater Water Parsnip (Sium latifolium)!
Yes it's a plant but, as the students will tell you, the steps you have to follow to introduce an endangered plant (which in the U.K. Greater Water Parsnips are) to a new area are exactly the same as those followed by zoos, botanical gardens and conservation organisations working to introduce the more "exciting" wolves, condors, golden eagles etc. In each case, there is a four-step process Collection, Captive Rearing/Breeding, Release and finally Monitoring, and the students would be involved at every step.
Four schools took part in this project Acle St Edmund C of E Primary School, Hopton Church of England Primary School, Lingwood Primary Academy and North Denes Primary School. The schools were chosen on a first come first served basis and numbers limited by the capacity at the reserve. Permission for the project was granted by Natural England.
Greater Water Parsnip are an endangered wetland plant in the UK and on the UK Biodiversity Action Plan. They are umbellifers, producing white flowers in July to August, and found in wet ditches, tall herb fens and marshes where they can grow up to 2m tall. Their population has declined rapidly in the last 40 years due to loss of suitably managed habitat and the drainage of wetlands.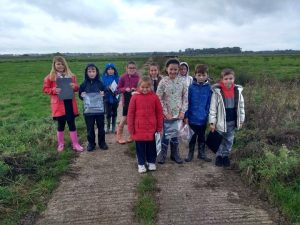 In September 2019, class representatives from each of the four schools went out to collect the Greater Water Parsnip seeds – balancing over the sides of the dykes while wielding scissors as the cows looked on! The seeds were dried and stored over winter. Then in March this year the students planted the seeds into pots of compost. Slowly, as they held the seeds in their hands, the wonder spread through each class – look it's so tiny! But, just think, a really big plant grows from it!
The pots packed with compost, with their seeds placed lovingly in, were then set in trays of water on sunny windowsills to wait for them to germinate. The plan was for each class to care for their seedlings until they were big enough to be planted out into Norfolk Wildlife Trust's Thorpe Marshes Nature Reserve in May.
Sadly, Coronavirus knocked these best laid plans out the window.
When the schools were shut down the pots and seeds were taken home with a teacher or one of the pupils. As the Water, Mills and Marshes team had planted the remaining seeds it has been possible to keep all the students and teachers up to date with their progress. Photos have been sent regularly via email and Twitter as the seeds germinated, the seedlings grew and when they were moved into bigger pots.
We still aim to plant all the seedlings that have grown into Thorpe Marshes Nature Reserve. However, the timing and exact process will be determined by the Government's COVID regulations and Norfolk Wildlife Trust's protocols in this area. Sadly, at the moment we think it will just be the Water, Mills and Marshes team planting the seedlings. However, we do plan to take some video of the process to show the students. Hopefully, we can get permission to run this project again – without any interference from Coronavirus – so that the students can plant their seedlings themselves.
With special thanks to our project partners: