National Park School Exchange Trip
Published: 26th September, 2018
In Septemb
er 2018, the two schools of Somerleyton Primary School, Norfolk, representing the Broads National Park, and Bury Church of England Primary School, Sussex, representing the South Downs National Park, visited each other to learn all about each others National Park and make friends!
South Downs National Park to Broads National Park
First up were Bury School. We picked them up in the minibuses from their school on a fine Wednesday morning and drove the five hours up to Somerleyton Primary School where the students gave us an introduction to the Broads National Park. Quick note here on the schools – both are small country schools, 50 to 70 pupils, housed in Victorian buildings so pupils and teachers alike were keen to see the similarities and differences between the schools and how challenges caused by Victorian architecture had been overcome!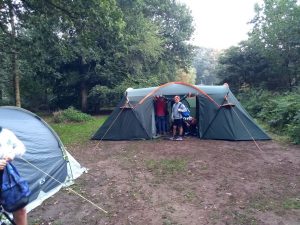 We camped for two nights at Herringfleet Scout Camp – a beautiful site – big old trees covering the hill as it falls away down to Fritton Lake with large grassy spaces at the top to pitch tents and run around. Perfect for burning off all the energy after being cooped up in a bus.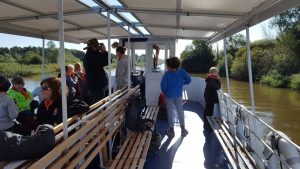 Thursday was an action packed day spent exploring the Broads National Park. A boat trip from Oulton Broad to the Waveney River Centre and back, where the wildlife didn't disappoint. We saw Chinese Water Deer (despite the Environment Agency's diggers at work), herons, kingfishers, cormorants and the otter AGAIN much to everyone's excitement. Dyke dipping at Carlton Marshes followed where we found everyone's first ever Water Stick Insect – like the water scorpion they breath air through a tube that looks like a tail attached to the water's surface.
After lunch it was back in the bus for a quick march down to Herringfleet Mill – you can't come to the Broads National Park and not see one! Then to the camp for the evening tractor tour of Somerleyton Estate. The Somerleyton pupils joined us for this and the BBQ afterwards.
Because there were so many of us, the Estate's Pinzgauer Army Vehicle was brought along to carry the
lucky extras! Our tour took us around the potato and sugar beet fields, with red deer hurrying across the track in front of us, before stopping opposite the Hall, as dusk was coming on, to look at the Welsh cattle and sheep grazing happily. A lovely end to a long day topped off by the BBQ and games in the woods before bed later that night.
A worn out group of students were delivered slightly wild, and very much unwashed, back to Bury school on the Friday afternoon!
Broads National Park to South Downs National Park
Two weeks later the 12 Somerleyton Primary students were hugged, waved and kissed goodbye. For many it was the first time they had slept away from home and family. Driving down we crossed the Dartford Bridge where I was assured they had seen the lost Beluga whale cavorting in the Thames below! We arrived at Bury School where we were reunited with the year 5's
who'd come up to the Broads. They told us all about the South Downs National Park – very pleased it was 5x bigger than ours! Then we tested the minibuses ability to climb hills – not something it does much here – driving up onto the ridge above the school before walking a couple of hours along the South Downs Way back to school for dinner. Being up high gave us
stunning views out to the sea and across the Weald and Downland under clear blue skies. Everyone was very pleased we'd driven and not walked up the hill!
We camped in the school grounds, cooked our food on gas camp stoves and enjoyed a singsong each night round the campfire. "Brown Squirrel" was an instant hit and sung for the entirety of the trip – apologies to all parents who are probably heartily sick of it by now! "Alice the camel has 100 humps" sung on the way home was another unforgettable delight…..
Thursday was all about history. First up the Tudor Hall and Norman castle ruins at Midhurst. Then the rescued and restored buildings from all through history at the Weald and Downland Museum. These buildings are rescued and rebuilt on the Museum site before being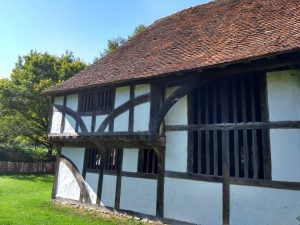 furnished with objects from that period. Many of the buildings were also functioning, such as the flour mill, stables, blacksmiths and Tudor kitchen. We got to go into Medieval houses built back when peat was being dug up and creating the pits that are now the Broads. Having so many buildings from so many eras meant we could see changes in architecture, building
techniques and most importantly toilet facilities! We got to try Tudor food (pottage), clothes and even learnt a jig accompanied by a recorder while watched by the grazing Shire and Percheron horses!
That evening we raced around a geocaching route – 10 points in a circle over Lord's Piece Heathland. We split into teams – half going clockwise and half anticlockwise – kids tearing across the heathland to get to the finish post first resulted in some very sweaty bodies! Dinner and then songs under the stars before bed in tents – no-one really wanting their trip away to end.
We arrived back at school on Friday to more hugs and an instant babble of stories pouring out about their three days away.
Both trips were fantastic and a big thank you to everyone involved in making them such a huge success, hopefully we can do it again!