The Chet Valley B-Line – Norfolk's first pollinator corridor
Published: 23rd March, 2021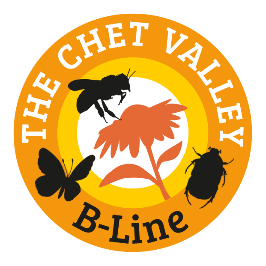 Bergh Apton Conservation Trust (BACT)  have led a pioneering project to create a 17 km long pollinator friendly corridor, The Chet Valley B-Line, running through the Chet Valley from the river's source in Poringland to Hardley, where it meets the River Yare. The project aims to stop pollinator decline by improving habitats for bees, hoverflies, butterflies and many other pollinating insects. Pollinators are on the decline in the UK due to habitat fragmentation, agricultural practices, such as the use of pesticides, and ultimately, climate change. To lose our pollinators would mean conservation disaster and negative consequences for agriculture.
The project is part of a larger, national B-Line network ran by the charity Buglife which launches today (23rd March) to create a nationwide network of pollinator friendly corridors. The corridors work by providing 'stepping stones' of habitat, with flowers for nectar and pollen, food plants for larval stages, and suitably structured vegetation for protection from predators.
BACT have been working closely with local wildlife groups to make the Chet Valley B-Line come to life and have worked with Norfolk Wildlife Trust (NWT), South Yare Wildlife Group (SWYG) and Norfolk Farming and Wildlife Advisory Group (FWAG). With funding from Water, Mills & Marshes, the project is administered by the Broads Authority and is also supported by Norfolk Naturalists Trust, The Woodland Trust and is part of the RHS 'Its Your Neighbourhood' scheme.
BACT have also been giving advice to public bodies, landowners and even local doctors surgeries, who have created their very own wild areas. The group advises to reduce the frequency of grass cutting to allow the existing flowers to flower and also encourages wildlife gardening, planting pollinator hedges, bulbs, wildflower meadows. The project has also seen Bergh Apton Nature Reserve, a key site for pollinators, double in size from 10 acres to 22 acres. In total, BACT have planted 1375 hedging plants, 750 bluebell bulbs, an acre of pollinator friendly wildflowers and distributed 150 packets of wildflower seed requiring 230 hours of Volunteer time. That's quite a feat!!
Anthony Davy, UEA Professor, Chair of the B-Line management group and Bergh Apton Conservation Trust (BACT) said: "We are launching this major new initiative to help Norfolk's pollinators and other wildlife. We want to work with landowners, large and small, with local councils and individuals in their own gardens."
"Everybody can do something to help by not using pesticides, leaving wild patches for habitat and growing plants that benefit pollinators. If you would like to help, please get in touch."
"And please look out for the formal launch of the Chet Valley B-Line in the summer, including a programme of events and activities everyone can get involved in. Check out our website or Facebook page for things you can do to help now."
The launch of the B-Lines project also recently featured on an episode of ITV Anglia.
What can YOU do to help?
Avoid harmful pesticides

Plant pollinator-friendly flowers and shrubs

Provide a home – a patch of long grass and a source of fresh water
Want to find out more or ways to get involved? Visit berghaptonconservationtrust.org
And watch the beautiful aerial footage of Bergh Apton Nature Reserve here