Wherry Lines Walks: Buckenham to Brundall
Walk Length: 2.5 mile linear walk
Getting Started
This walk begins at Buckenham Railway Station, NR13 4HW (Grid Ref TG 3509 0565). This station is only served on sundays and upon request so be sure to check timetables if you are arriving by train. There is parking available at the station if arriving by car.
The Route
This 2.5 mile station to station walk takes you from Buckenham Station (Sunday service only and upon request) to Brundall Station along footpaths, through wooded areas and along some roads. The route also passes alongside Strumpshaw RSPB Reserve where toilet facilities are available. You may even spot species such as the Marsh Harrier, Cetti's Warbler, Kingfishers and even the Swallowtail Butterfly (summer only) which can all be found within the reserve. Why not take a look at the newly restored Strumpshaw steam engine house if visiting the reserve?
A short distance away is Strumpshaw Steam Museum, opened in 1954, it is believed to be the largest privately-owned collection of engines in the UK. The museum is only open during the summer months.
On this walk, there are some slight gradients but the majority of the walk is flat. There is some seating on route. The walk also passes train crossings so take extra care and follow crossing instructions. There is a pub, village shops and other services in Brundall. At the end of the walk, you could catch the train back to Buckenham or any other Wherry Line stop. Alternatively you could walk back along the same route making a 5 mile walk in total.
For more information on the Wherry Lines Walks, the full walk booklet is available to download here.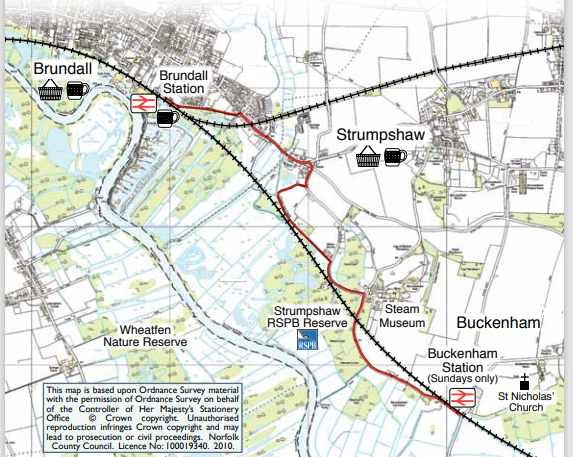 Getting started
Location of start of trail
Our PDF copies of popular Broadland trail maps are free to download and print off for your own use.