Walking again at Thorpe Marshes by Chris Durdin
Published: 28th October, 2020
Blog update from Norfolk Wildlife Trust (NWT) Thorpe Marshes by Chris Durdin, 21st October, 2020
*Please note that restrictions regarding the Covid-19 health situation may have changed since this article was posted. Please check local government guidance for current Covid-19 restrictions.*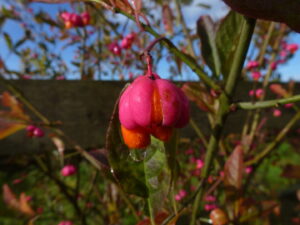 Eight years of monthly guided walks at NWT's Thorpe Marshes reserve on the edge of Norwich came suddenly to halt, like so many things, when lockdown gripped us all in March. Though the nature reserve has remained open, and was a wonderful refuge in lockdown, it was still with a feeling a relief when, after a gap of seven months, guided walks re-started in October. Yes, we were a little restricted by the 'rule of six' and other Covid protocols; that said, being out in the fresh air is always a healthy choice.
Autumn weather can be a challenge, especially when dates are fixed long in advance, and we had a bit of everything this morning. Early morning rain turned into occasional showers and these, when combined with sunshine, brought us a rainbow.
It's tempting to think that migrating flocks of redwings and fieldfares are an inevitable part of any autumn scene. Actually, this takes more than a bit of luck with timing. The reality was that one redwing perching on a distant tree was the best we did. However, meadow pipits flew past on several occasions, with their trademark high-pitched call, and they are every bit as much a seasonal visitor here as winter thrushes. A stonechat perched in view; they returned to the marsh in late September and are fairly reliable throughout the winter.
It's a good time of year to see kestrels as numbers are boosted in early autumn by those fledged this summer. Also overhead was a buzzard, until recently a scarce bird in Norfolk but now a routine sighting almost anywhere.
This morning's group took an interest in all types of wildlife. There were late-lingering flowers, such as hemp agrimony, angelica and patches of water chickweed. Orange and pink is usually a colour clash, but somehow it works on spindle berries. We took time to look at the differences between reeds, sedges and rushes.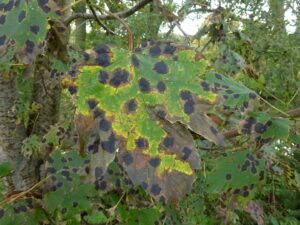 Walks at NWT Thorpe Marshes are linked to the Water, Mills and Marshes 'Broads Landscape Partnership scheme', a programme supported by the National Lottery Heritage Fund. There's a particular Water, Mills and Marshes project that, as a local naturalist, I'm proud to have at Thorpe Marshes: the introduction of the scarce and threatened Greater Water Parsnip, many of which were planted earlier this year. They've finished flowering now and, I hope, are setting seed. You have to know, as I do, where to look for them on certain ditch edges, and today's walk may have been the last chance this year for me to point them out.
I admit to being low on the learning curve for fungi, but happily there were two easy species on view: jelly ear on a dead elder and patches of tar-spot on almost every sycamore leaf.
Sunshine brought out invertebrates. The path beside the tidal River Yare is fringed with stinging nettles and there were scores, perhaps hundreds, of nursery web spiders scurrying around. The nettles are also a good place to find bugs, and between us we found dock bugs and a hairy shieldbug.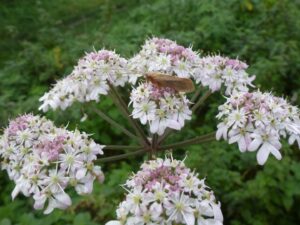 October is peak time for caddis flies and with their long antennae they could, at first sight, be mistaken for a brown moth. A good place to look for them is on late blooms of hogweed. Dragonflies in the second half of October are likely be to migrant hawkers or common darters and we saw both. Then we found my favourite, willow emerald damselflies, as we completed our circuit of the nature reserve.
Chris Durdin leads monthly wildlife walks at NWT Thorpe Marshes. With numbers limited by the 'rule of six', booking is essential via NWT on 01603 625540. Details of walks and recent sightings at the nature reserve can be found here. *Please note that restrictions regarding the Covid-19 health situation may have changed since this article was posted. Please check local government guidance for current Covid-19 restrictions.*